In a letter from Maxwell's lawyers to a New York judge that was made public last week, we learn that they, too, have no idea where the Madam is, and that her emails have been compromised.
According the Daily Mail, "Ghislaine Maxwell's personal emails have been hacked, and damaging information, including the names of individuals linked to Jeffrey Epstein's sex trafficking case, are at risk of being publicly released...sparking fear."
If pedophiles weren't already living in fear, we have truly failed as a society.
In a letter sent to the New York Judge Loretta Preska, who is currently hearing a defamation case brought against Ghislaine Maxwell, her lawyers admit that they, like the rest of the world, don't know where their client is.
CD Media has previously reported on the various theories about where the Madam may be in hiding, but the newest revelations that even her lawyers are in the dark is making public the call for proof of life.
More concerning about her lawyers' ignorance is that Maxwell is currently under investigation by the FBI for her participation in the child sex trafficking ring that brought down Jeffrey Epstein.
The letter was sent by Maxwell's attorney, Ty Gee, and while it was actually sent to the Second Circuit court in early December, it wasn't made public until late last week. In it, Gee explains that the equivalent of over 8,000 pages of Maxwell's emails have been hacked and writes, "it is difficult to overstate importance to the lives of Ms. Maxwell and the non-parties."
Another one of Maxwell's lawyers, Laura Menninger, describes most of the non-parties as important enough to have private attorneys but not all. Therefore it is in the best interest of the court, not those individuals, to have their information redacted from further court releases.
However, the revelations that can come from Ghislaine's email hack aren't like homeland spy information which, if leaked, can put secret operative lives in danger. Her lawyers are arguing that it's in the court's best interest to protect potential solicitors of a child sex trafficking ring.
Ghislaine's attorneys blame the court itself since in an August 2019 trove of unsealed documents, they failed to redact Ghislaine's personal email in one of 2,000 pages, most likely giving the new hacker access to that name.
This new information only heightens Prince Andrew's already precarious position. The royal family has already been on high alert as he's already been implicated in previous email correspondence with Maxwell over the woman bringing the defamation suit against her. Virginia Giuffre, who then was known as Virginia Roberts, alleges that she was forced to engage in sexual encounters with Prince Andrew when she was a minor over the course of several years.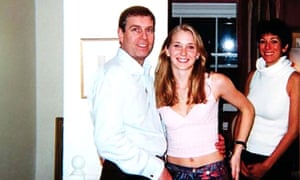 While Prince Andrew has denied the claims saying that he has never met Giuffre and Maxwell very publicly called her a liar, the released emails show that they've had at least one conversation about their accuser and he seemed to remember her at least somewhat.
The Daily Telegraph reports that the Mossad Madam uses a private email server. While that may keep her emails safe from federal authorities, private servers don't provide immunity from hackers.
U.S. news outlets are oddly quiet about these new developments, as at the time of publishing this, CNN, MSNBC, NBC, the New York Times, Washington Post, Bloomberg, and CNBC have failed to report on the hacked emails. This is especially strange since all the above have aggressively covered the hacking of Amazon CEO Jeff Bezos' phone just two days ago.
While the hacked emails have not been leaked, it seems likely that whoever has access to them is holding out for the highest bidder, or bidders. Alternately, the emails may not have been hacked at all, and Maxwell is using the information as leverage against those who would investigate her.